This is the forth part of the division. The interior. It includes any mods directly related to the area of that I spend the most time in.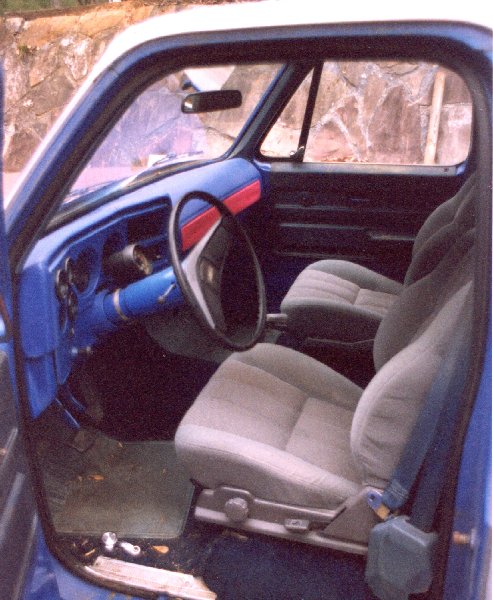 Currently, all the interior has been painted body color. The bucket seats are out of a Toyota Xtra Cab. I have already purchased the carpet kit from Auto Custom Carpet but I am not sure if I am going to keep the interior blue. I am leaning toward a grey leather interior. I plan to build a custom console to fit between the seats. Door panels and dash will be recovered in leather, as will the headliner and all plastic trim. Guages for the Dash will be Autometer Pro-Comp which will hopefully be installed behind a custom dash. Or at least that is the plan for now. A tilt steering unit will be installed to replace the 3 speed column. And new glass for the front and rear. New weatherstripping has already been aquired, but I still don't have a radio or speakers.
UPDATE: as of March 4, 2000, I will be using a new cab with factory A/C and no rust. The cab has been gutted and is in the process of being sanded and prepped for primer. The bottom of the cab will recieve a coating of Por-15 to stop the inherit rust problem. My buddy Troy has gotten me a '88-99 GMC tilt column w/ wiper delay from a manual shift truck. It was shipped on 4/28/00. Wiring will be replaced with a Painless Wiring system. Toyota Buckets will be remounted in this cab and new glass installed.
If you have any questions,comments or suggestions email me...

COPYRIGHT NOTICE. Copyright © 1988 Chris G. Lucas. All rights reserved.

Product and company names mentioned herein may be the trademarks of their respective owners.

Any rights not expressly granted herein are reserved.

ALL drawn images are copywritten by the owner of this site.

Duplication and distribution is not allowed inless given permisson by owner.