This is the second part of the division. The suspension. It includes any mods directly related to the frame or anything connected to the tires minus the rearend, which will be in the drivetrain section.

Before I installed the 454 in the truck, the first mod I did was to install a drop kit. I bought the flip kit and had a racer friend modify some lower control arms for me. Me and my brother late one evening started tearing apart the truck. Pulled the bed off (stepside) and began our surgery. We installed a c-notch in the framerails and just for fun cut the 6cylinder spring down to almost nothing. It looked WILD! I will try and get some pics up. The suspension components that are currently on the truck now are Suspension Techniques lowered control arms (2.5") and lowered springs (1.5"). The back has a 6" flip kit.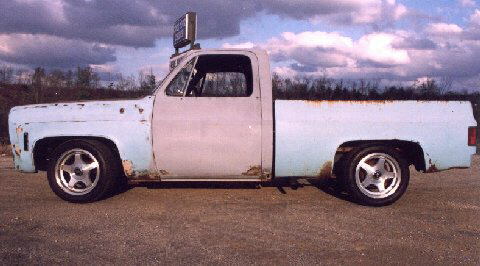 I have just gotten a set of 17" Impala SS rims mounted on the truck. I plan on finding a set of GMC Sonoma center caps to replace the Impala ones to match the new Grille. It currently has 255/50/17 B. F. Goodrich Comp T/A's. They are slicker than grease. I got take offs from a friends Impala SS because I plan on changing to Nitto 275/50/17's. Before I had 275/60/15's on stock GM 8" Ralleyes and really liked the way the truck sat. They new tires should be about the same height so I can have the same look.
Other plans I have for the suspension is front and rear swaybars. I also have found a Cadillac rearend with disc brakes which I plan to steal the calipers off of so I can have 4 wheel discs. There will be either a fuel cell or custom made aluminium gas tank mounted in the rear section of the frame and a frame mounted battery tray at the back also. I am trying to move as much weight in the rear as I can.
UPDATE: I have aquired a '88 Blazer gas tank and skid plate that will be mounted in the rear framerails. Blazer tank How-to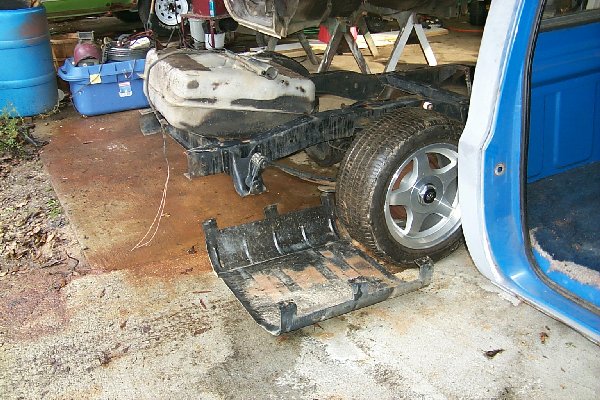 If you have any questions,comments or suggestions email me...

COPYRIGHT NOTICE. Copyright © 1988 Chris G. Lucas. All rights reserved.

Product and company names mentioned herein may be the trademarks of their respective owners.

Any rights not expressly granted herein are reserved.

ALL drawn images are copywritten by the owner of this site.

Duplication and distribution is not allowed unless given permisson by owner.